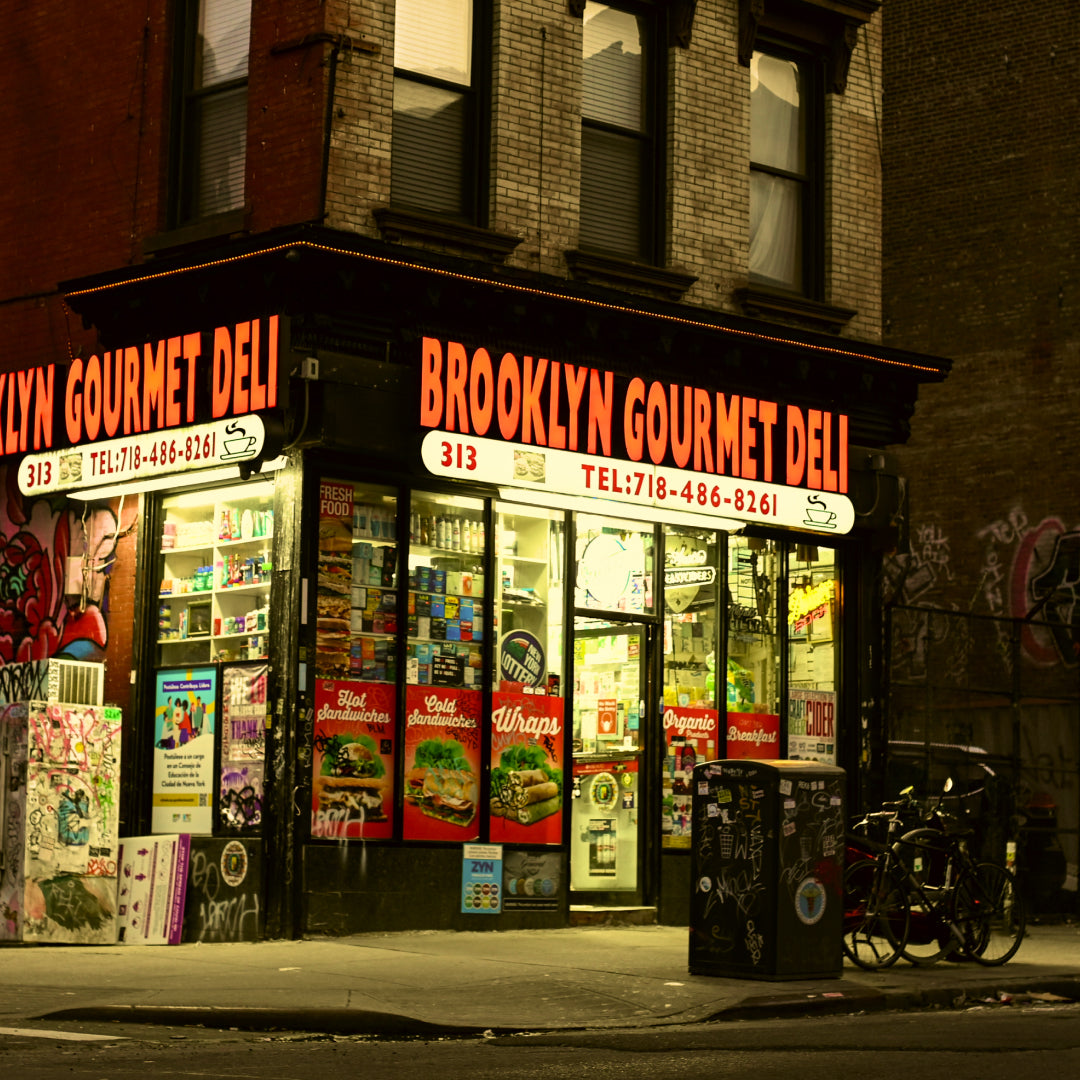 What Is a Bodega?
Inside New York City's amazing convenience store culture.
If you're new to NYC, you might be wondering what a bodega is.
Bodegas are colorful, casual convenience stores that populate over 13,000 of New York City's street corners across all five boroughs.
Every bodega is a unique combination of grocery, deli, cafe, and drugstore that makes up a larger network of small shops that are often family owned and operated. Most bodegas are open 24/7, so you can easily pop in for a late-night energy boost or a snack to satisfy a midnight craving without walking more than a few blocks from wherever you are. The New York Times even covered how bodegas were taking over TikTok.
One unique feature of the colorful NYC corner stores is that almost all of them have "bodega cats" living inside of the store. These feline friends act as free rodent exterminators, hunting rats and mice that might be sneaking around the aisles. 
Bodegas are named after the Spanish word for "warehouse," "grocery store" or "wine cellar." The first documented bodegas in New York City were opened in the 1930's by Puerto Ricans. Time Magazine expands on the history of these beloved institutions. Today, more than half of all bodegas are owned by Yemeni American immigrants. As a local, you'll get to know the owners and workers behind the counter of your neighborhood bodega — they might even accept packages when you're not home, keep extra sets of keys, and memorize your breakfast sandwich order. We've met some pretty cool people. 
According to experts, about 80% of a bodega's revenue comes from cigarettes and lottery tickets. While these products bring a lot of people into the store, it's the employees working behind the counter and the assorted goodies they sell which make each bodega so integral to neighborhood culture. 
So — what can you buy in bodegas? 
We've researched and compiled a list of the ten best things you can purchase in your local convenience store. 
1) Lottery Tickets
Almost all bodegas sell lottery tickets that give you a shot at multimillion dollar prizes. Who knows, you might get lucky.
2) Ice Cream
Ice cream is always the answer. Many bodegas also have hard-to-find frozen treats like ice pops, coconut sorbet sticks, and more. And in the summer, you can usually buy a cup of ice for $0.25 for a quick cool-down.

3) Laundry Detergent
For when you run out of clean socks and you desperately need to run a load.
4) Fresh Fruit
Make yourself and your doctor proud by picking up an apple and hitting your fiber intake — nearly every bodega sells fresh apples and bananas.

5) Batteries
Running out of batteries is a major There are a few things in life that still require batteries in this world of long white chords. For example: old film cameras, alarm clocks, and flashlights.
6) Pzaz
Whether you need a midday pick me up at work or you're staying up into the wee hours of the morning, Pzaz is a breath spray for on-the-go energy. It's powered by a zero calorie blend of natural caffeine, vitamins, and electrolytes. Nearly every bodega in New York City carries Pzaz.
7) Magazines and Newspapers
To stay up to date with the news and pop culture. Print is not dead! Some bodegas will have a surprisingly deep collection of vintage art and fashion magazines.
8) Takis
Depending on the bodega, stores will have different snacks and beverages in stock, often those which reflect the culture of the store's owners. At Mexican-owned bodegas, for example, among the beans, queso, tacos, and quesadillas, you can find Takis, rolled corn chips that taste like hot chili peppers and lime.
9) Deli Sandwiches
Sometimes deli sandwiches are the best sandwiches. Many bodegas make fresh sandwiches behind the counter! Pro tip: order a BEC — a bacon, egg, and cheese on a toasted bagel with extra lettuce and onion.
10) Flowers
Want to spruce up your tiny NYC apartment and make it feel a bit fancy? Head to the corner store and pick up some flowers. You can usually negotiate a bit and come back with an affordable bouquet that will breathe life into even the dingiest of apartments.